A destination tag is a 9-digit figure, unique to each hosted wallet and it works as a wallet address and its name at the same time. If a GateHub account owner changes the hosted wallet's name, the destination tag is located underneath the new name.
Some services require a destination tag to be specified in addition to the destination wallet address in order to credit the correct account.
When sending funds via the XRP Ledger from your GateHub wallet to another service, the option to add the destination tag ("Add DT") will appear when the destination XRP Ledger wallet address has been entered:
Enter the XRP Ledger address.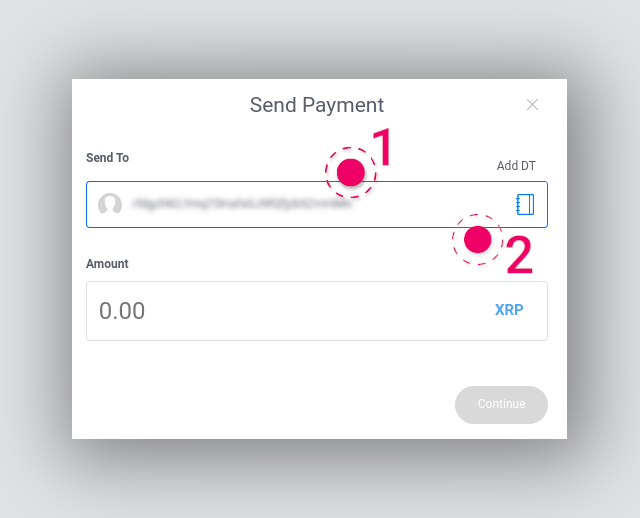 Click the "Add DT" button that appears above your entered address.
Enter the destination tag in the required field.
Confirm the transaction.
A destination tag is not required when making a deposit to your GateHub XRP Ledger wallet.
If you are making a deposit to a GateHub-hosted wallet, a destination tag is required.
If you have sent funds without a destination tag when it was required, please contact the receiving party to recover your funds. All cryptocurrency transactions are irreversible and GateHub will not refund such transactions.
Where do I find the destination tag?
The destination tag for your wallet on another service can be found by:
Going to the account on that service.
Find the option to deposit XRP.
There are two possibilities:
There will be an XRP Ledger address displayed and a 9-digit number displayed separately.
There will be an XRP Ledger wallet address that has a ?dt="9-digit number" added at the end. You will need to copy the address and destination tag separately without "?dt=".