FLR (Flare) token is the native token of the Flare network. It is primarily used for spam control of the network, but can also be used as collateral within applications, a contributor to an oracle or as a governance methodology on the Flare network.
GateHub will support claiming Flare tokens with native XRPL wallets and Hosted wallets. We are also planning to support deposits, withdrawals, trading and exchanging of FLR on both XRPL and Hosted wallets.
Claimed Flare tokens will be issued as an IOU on the XRPL.
Claiming Flare token will be available to all XRP holders on the XRPL and users of custodial exchanges that support the distribution. Addresses belonging to Ripple Labs and certain previous employees of Ripple Labs are exempt from this distribution.
Claiming Flare for GateHub Users
In order to receive Flare tokens to your XRPL wallet, you will have to set a message key on each of your XRPL wallets individually.
The message key will contain your Flare (claim/deposit) address which will be generated automatically for you and through which you will be able to claim Flare token after the snapshot date.
A snapshot of all XRP Ledger addresses was made on December 12, 2020.
In order to be able to set the message key in your XRP Ledger wallet, you need to be connected to GateHub Fifth gateway.
Set the Message Key in Your XRPL Wallet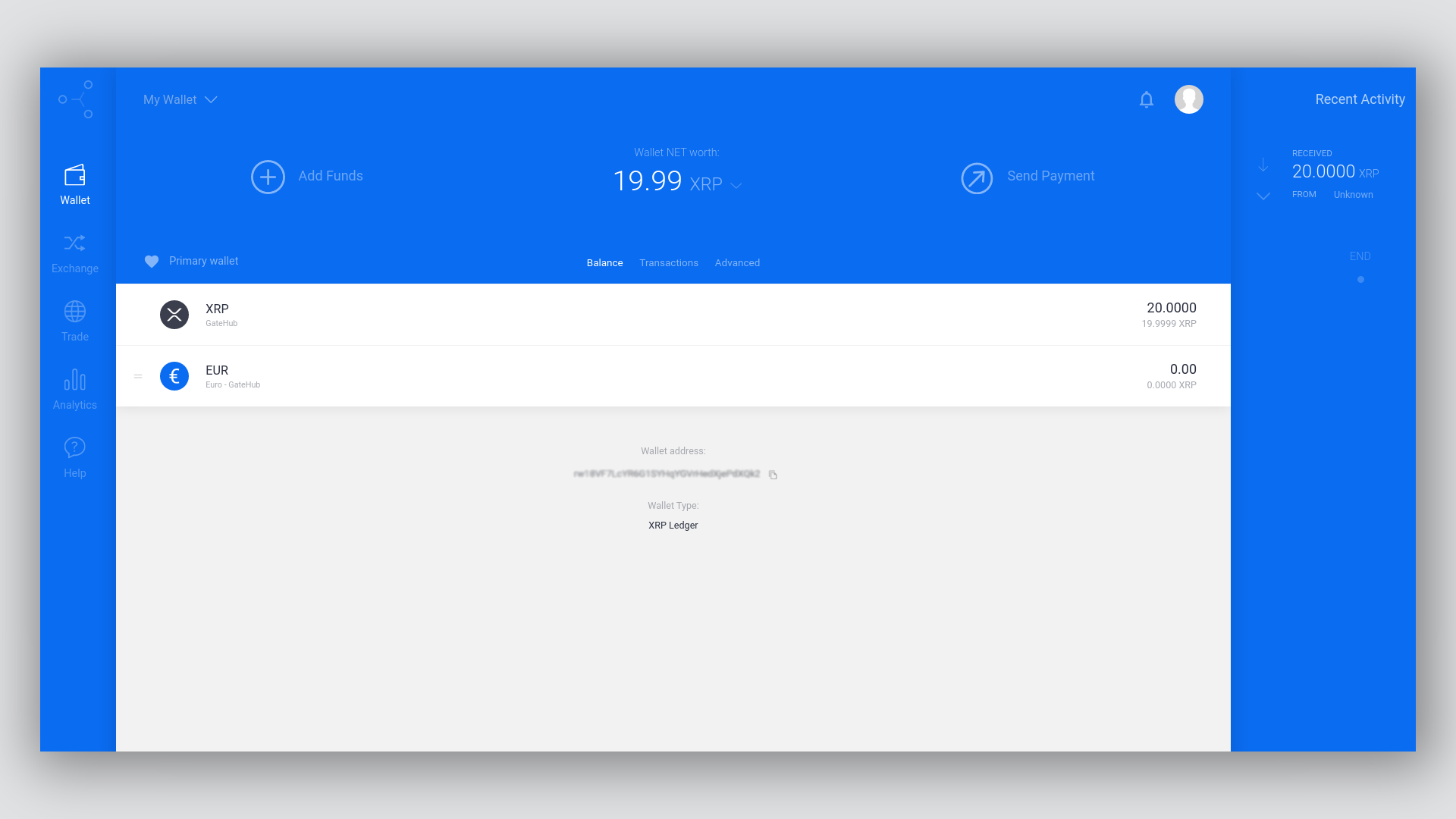 Go to "Wallet".
Select the XRPL wallet from a blue drop-down menu in the upper-left corner of the screen.
Click the "Add Funds" button at the left.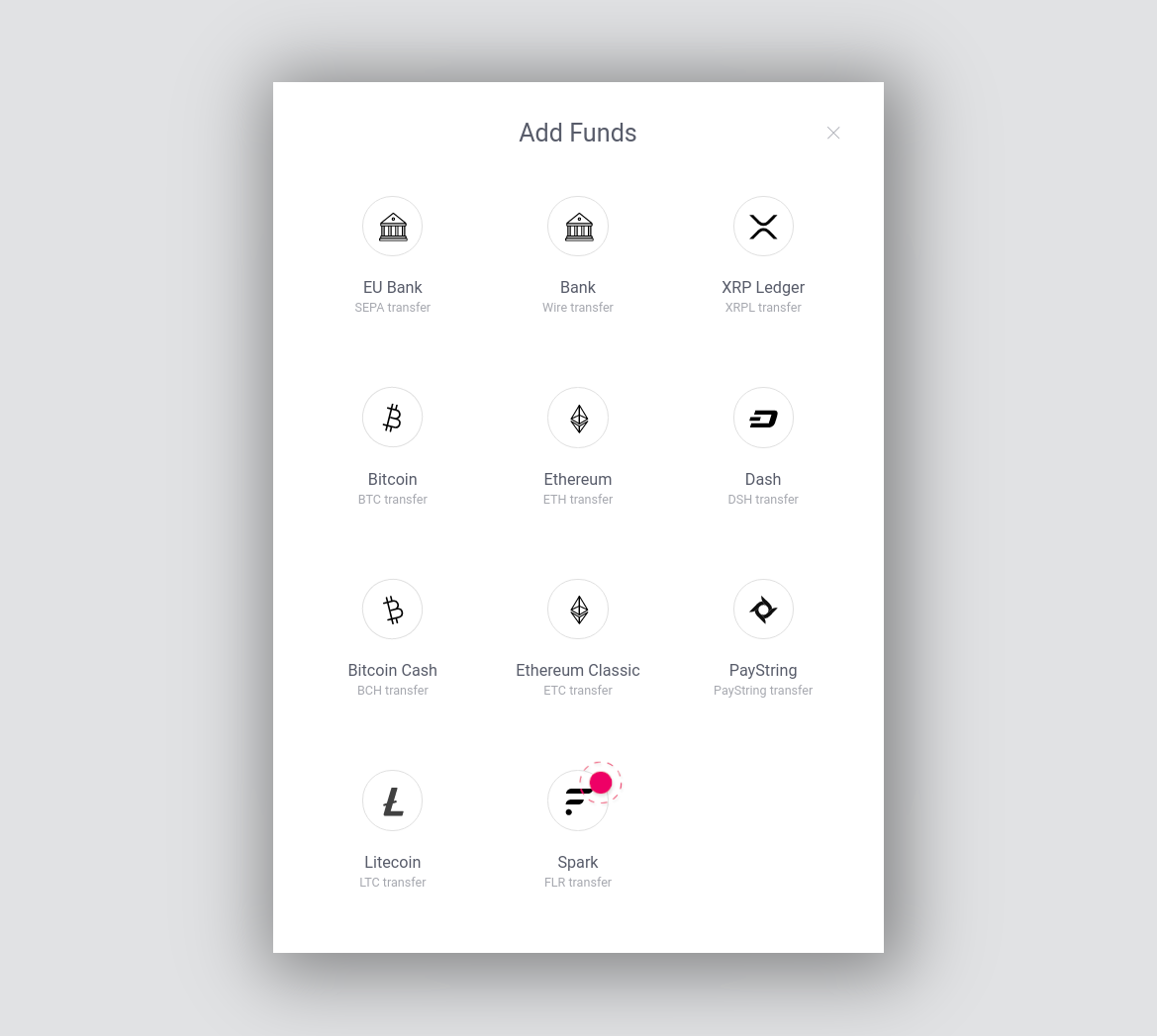 Choose "FLR Transfer".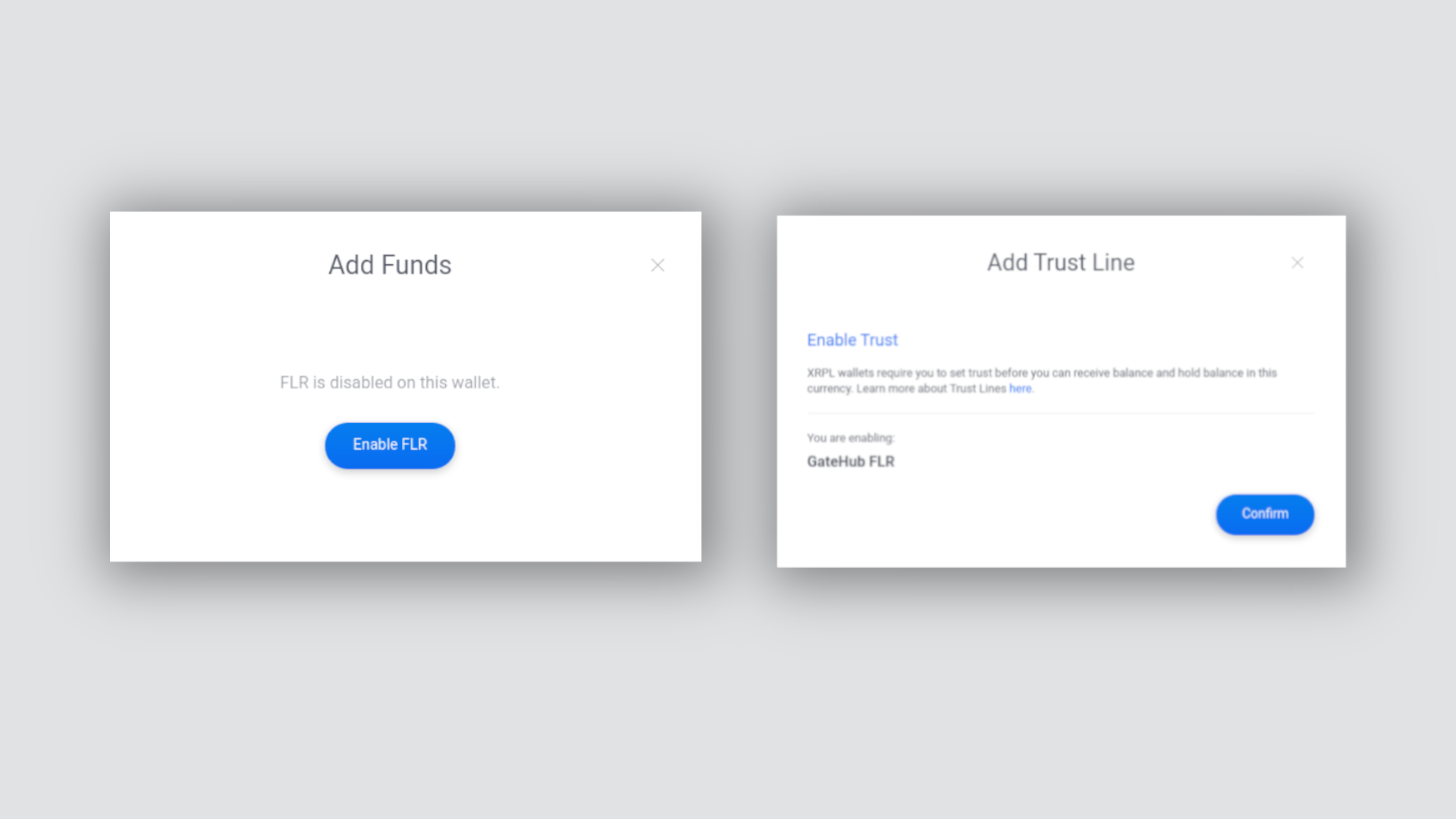 Click "Enable FLR" and then "Confirm" - this will set an FLR trust line in your wallet. Please note that a sufficient XRP reserve will be required to set a Flare trust line.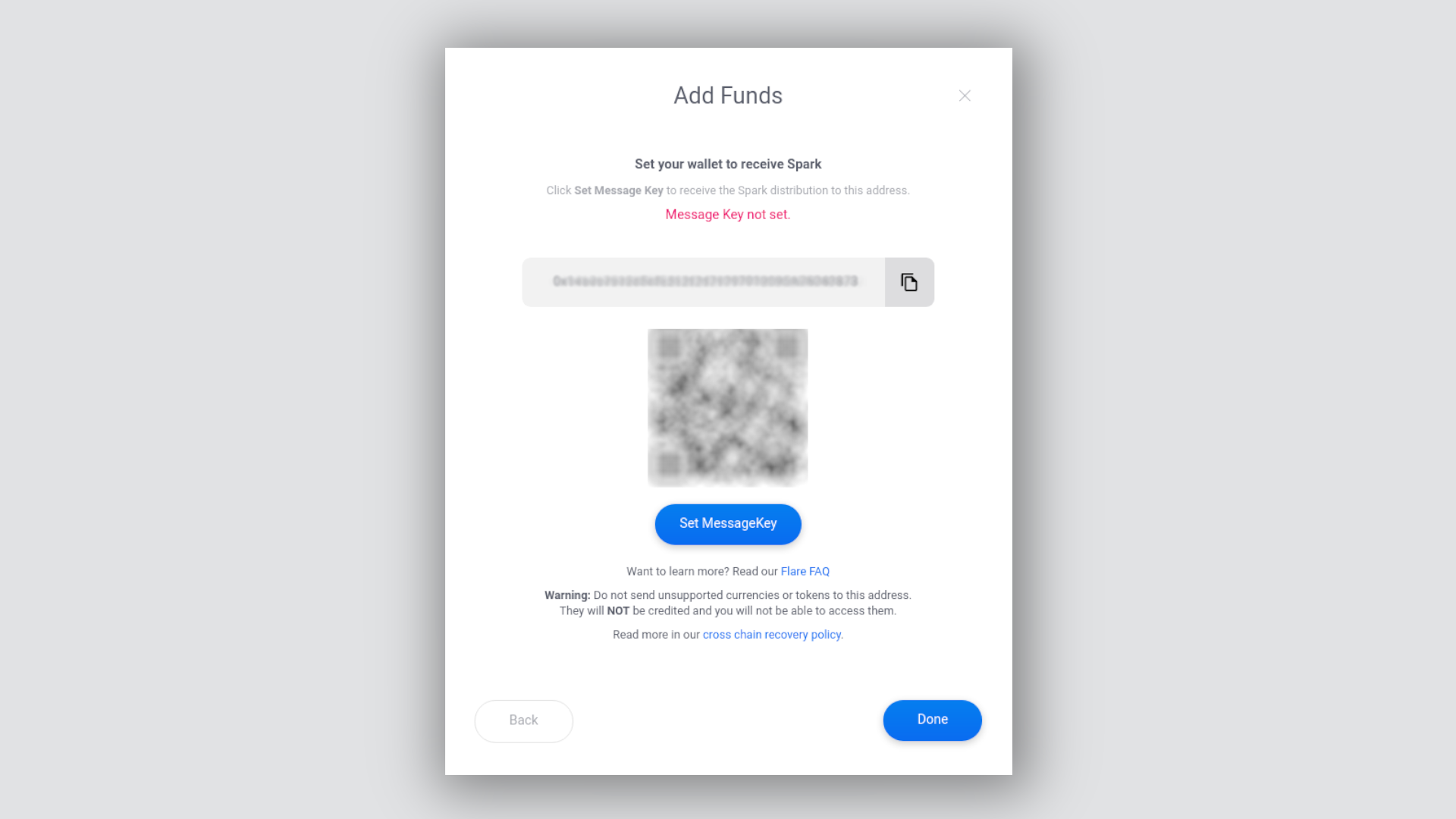 Click "Set MessageKey".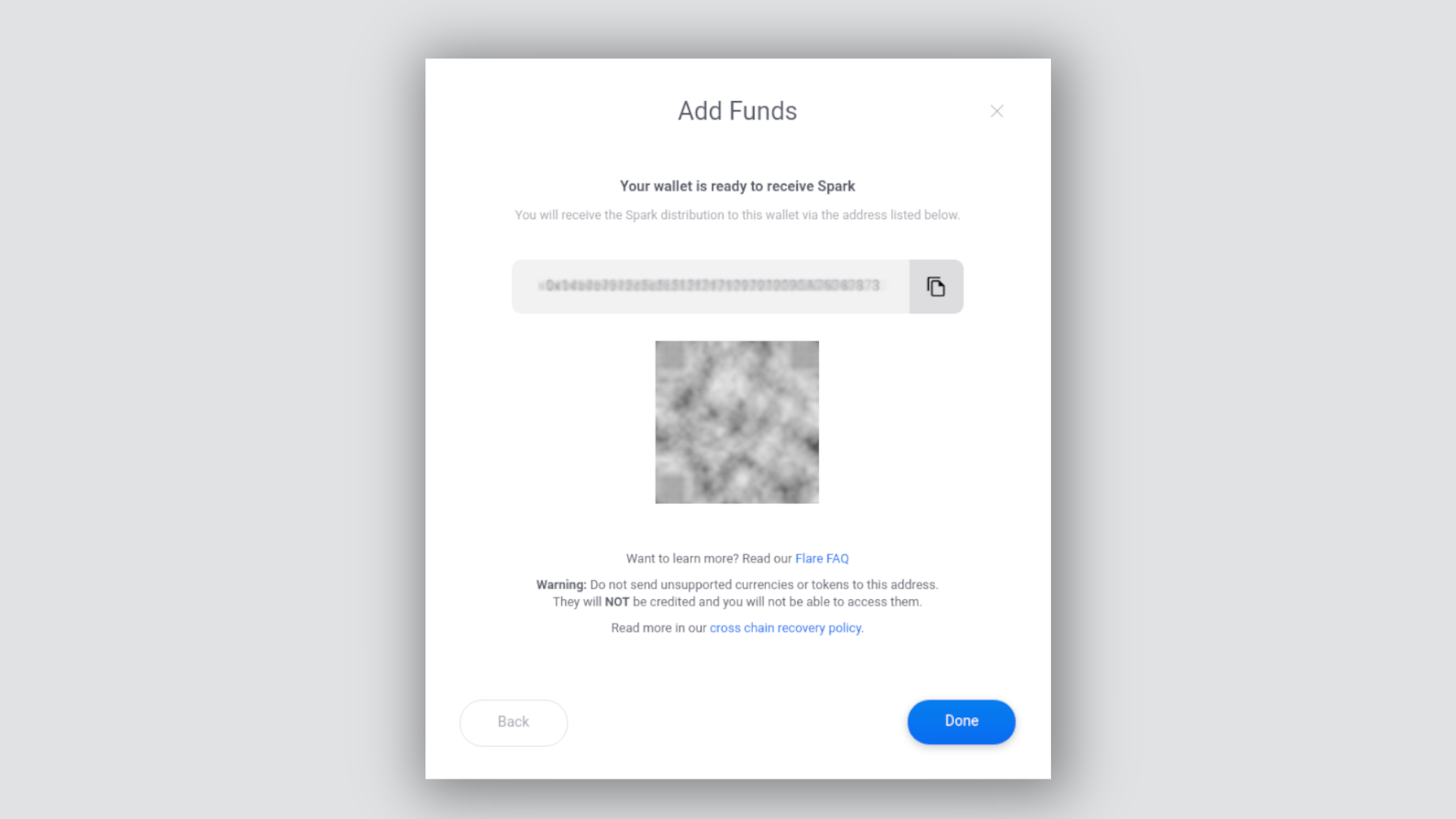 You will see a screen saying that your wallet is ready to receive Flare. You will receive the distribution via the address stated in the window.
Note, that the distribution did NOT take place on Dec. 12. It will take place on a later date that has not been specified by Flare yet.
Flare network will process claims up to 6 months after the launch of the network. Make sure to set your wallet and claim Flare on time!
Receiving FLR to a Hosted Wallet
If you are holding your XRP in a Hosted wallet, you are not required to do anything. In this case, GateHub will make a snapshot of all the Hosted XRP balances at the time of the snapshot by Flare and distribute FLR accordingly.
XRP to FLR Ratio
You will receive the same amount of Flare per XRP regardless of where you are holding your XRP. The ratio will be determined programmatically by Flare.